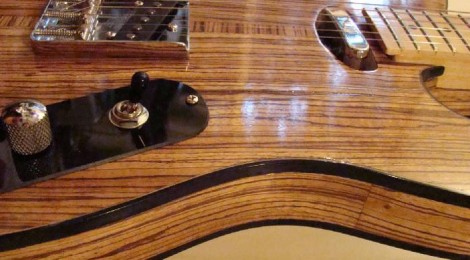 The body and head stock feature zebra wood veneer. Solid maple neck with large frets and a head-nut of polished bone. The electronics are custom: over-wound pickups, intonatable bridge & saddles, 3 way switch, and nice big pots. Black inlaid banding and hand-cut inlay patterns.
The semi-hollow body through-body string ferrules give this guitar resonance and sound like no other.
Pickups – These are WICKED nice. These are nice pickups- ceramic bar magnets, nice warm vintage output- Bridge clock in at a healthy 6.4K and the neck pickup a 50's correct 5.5K
If interested I can send you some sound samples.
Price (w/o shipping) – $1950.00
If interested in this beautiful but meaty custom Metzler Guitar – http://metzlerguitars.com/contact/