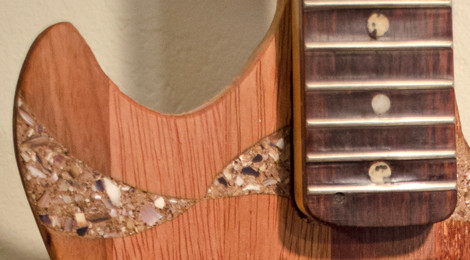 This baby started life as solid wood flooring…!
Tongue & 'groove' design helped in the body forming process   but the slats were not deep enough so two slabs are stacked & glued together for depth.
The shell inlay material idea attacked me from the
"Plethorium-O-Wonder and this is the creation that came to be.
Shells collected from the Oregon coast ground-up in an old coffee bean grinder – with the help of a large hammer.
Created a Zebra-Strippedish look for inlaying the shell material and then routed out copious amounts of wood.
Thin and comfortable, not heavy body that's baby-butt smooth and finished in TUNG OIL.
Routed for two humbucker style pickups.
Signed & dated and ready for electronics. The neck that is shown is optionally priced if interested:
Maple w/ rosewood fingerboard, inlaid river rocks and Dalmation Beads in the fretboard, river rocks inlaid into head stock that has a mahogany veneer – VERY original.