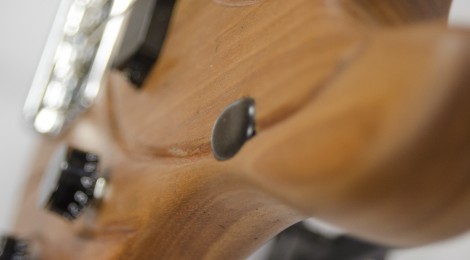 This 3/4 scale bass started as a Dean thing… which play great anyway, but are NOT pretty or feminine and fairly void of character…
Nixie was reanimated from the nasty hard lines of the original design into this feminine form and feel, the carved grooves in the mahogany body represent the ocean, which is where the owner lives, and I added black, smooth ocean rocks from my incredibly vast and mind numbing rock collection.
Since this was such a feminine creation, I needed help with rock choice & placement and my love helped me from
"Rock-ComatoseOverwhemulous"…thanks Betti.
The neck was radiused ( is that a word?) to 15" with a matching bone head-nut that also took parts of my left index finger, but that's another story.
This is my example of a "Guitar Customization" – turning an existing guitar into something else.